What's the Best Side to Have With Fried Chicken?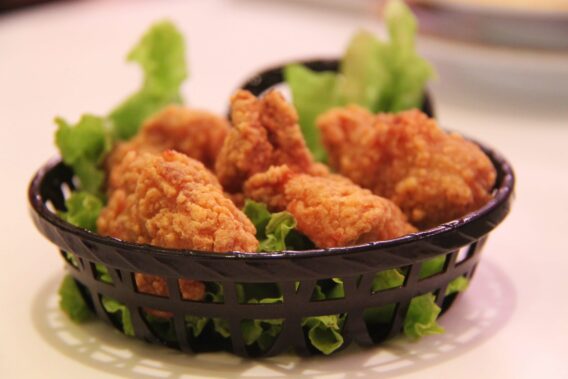 You can serve chicken in a countless number of ways; chicken sandwich, chicken breast, chicken thighs – only to name a few. But fried chicken has a special place in our hearts (or should we say stomachs?)
A crispy and crunchy outer layer, with a juicy and meaty inside – fried chicken is pretty unbeatable in terms of go-to favourites.  However, the question remains: what are we getting on the side? Don't get me wrong, french fries are great, but we can get a little more creative than that. 
So when you are thinking to yourself : hmm…what to serve with chicken? Check out this list for some creative and delicious inspirations that will satisfy any appetite. 
1. Mac and Cheese
If you're trying to think of a staple comfort food to go with your fried chicken, look no further. A cheesy, creamy mac and cheese will go together perfectly with crispy fried chicken. This combination offers you a variety of soft, chewy, and creamy textures from the mac and cheese, with the added crunch from the fried chicken – making it the perfect combo to diversify your meal. 
Another great thing about mac and cheese is that there are countless ways to prepare it, so it's nearly impossible to get bored! Mary Brown's spices up their macaroni and cheese salad with some green and red pepper flecks to give you that extra flavour. 
2. Coleslaw 
If you're in the mood for something creamy, sweet, and tangy, coleslaw is an excellent option. Mary Brown's shreds fresh cabbage and carrots in house, and tops it with a creamy dressing. The freshly shredded veggies give you a light yet satisfying crunch while the dressing gives you the tanginess you're looking for. 
Overall, the fried chicken and coleslaw duo gives you a fresh and crunchy combination. 
3. Pizza 
Why not put two star players together. If you're feeling extra hungry, pizza and fried chicken will do the trick every time. The marinara sauce, cheese and your choice of additional toppings for the pizza –  paired with fried chicken – will give your taste buds a huge variety of flavours and textures. 
4. Nashville Taters
If you're looking for a crispy, sweet and spicy combo, try Mary Brown's chicken and taters. Mary Brown's cuts their potatoes fresh in house, deep fries them and then tosses them in a hot honey Nashville glaze. 
If you're the kind of person who thinks the best side dish with chicken is potatoes, you'll definitely fall in love with this combo. These taters give potatoes a whole new meaning. 
5. Mashed Potatoes and Gravy
Soft, buttery and creamy mashed potatoes will balance out the savoury crunch from your fried chicken – while the gravy gives you that added boost of flavour. Mary Brown's gravy is a smooth and delicious topping for mashed potatoes, taters, and you can even try dunking your chicken in it. Gravy really has the power to make almost anything taste better. 
6. Tater Poutine
Thus far we've talked about cheese, gravy and taters, so now it's time to put them all together. Mary Brown's Tater poutine is made from real potatoes that are cut and deep fried in house, smothered in their smooth gravy and topped with cheese curds. 
If you're looking for a crispy, salty and cheesy side to go with your fried chicken, tater poutine is definitely the way to go. Mary Brown's famous chicken and taters never disappoints. 
7. Pickle Chips
Pickles are great, but pickle chips are a whole new level. Pickle chips are sliced pickles that are breaded, deep fried and served with dip. They are the perfect tangy and crunchy side that will compliment your fried chicken. 
8. Hasselback Sweet Potatoes 
Wanting to try something salty and sweet? Hasselback sweet potatoes are your answer. They are sweet potatoes cut into slices, (they are not cut through all the way, so the potato still remains in one piece) and dressed with garlic, butter and herbs. They are then baked in the oven till the edges get crispy but the inside of the potato remains soft. 
9. Corn On the Cob
This is a classic go to option that's easy to make. All you really need to do is buy the corn, throw it on the grill, then add butter and seasonings of your choice. 
Or, if you want something a little richer, you can cook the corn in butter and milk. This sweet creamy and salty side dish will work well with your crispy fried chicken. 
10. Bacon Cheddar Jalapeno Cornbread
Cornbread can complement almost any meal, so why not have it as a side with your fried chicken? For added flavour, try Bacon Cheddar Jalapeno Cornbread. This soft and moist bread comes packed with spicy jalapenos, crispy bacon and gooey cheese. These flavours and textures go exceptionally well together and make for a fun side dish. 
11. Fried Okra
Let's throw some easy to make vegetables in this mix. To make fried okra you will need to cut the vegetable up into bite sized pieces, dip them into a flour and egg mix, and deep fry them. If you want a little bit of sweetness, you can add some crushed pecans into the flour and egg mix. 
12. Mozzarella Cheese Sticks 
Gooey, cheesy centres, crispy battered exteriors, dipped into marinara sauce – who doesn't love mozzarella cheese sticks. Most people might not realise it, but they only take minutes to make. Similarly to the fried Okra, all you need to do is cut a block of cheese into rectangles, dip them in an egg and flour mix, then deep fry them in oil.
Have them with your fried chicken to indulge in a satisfying meal. 
13. Waffles
Breakfast for dinner or dinner for breakfast? Either way it's a piece of sweet and savoury  heaven on a plate.  Waffles with maple syrup gives you a soft, sweet, and chewy bread that perfectly complements crispy and juicy chicken. You can enjoy this meal for breakfast, brunch, lunch or dinner. 
By now, we've hopefully solved the "what to serve with chicken" question, and it's finally time to start eating. Head on over to Mary Brown's to satisfy your craving for fresh, crispy and juicy fried chicken. Just don't forget about the ever important side to really savour your meal.