What You Need to Know About the Chicken Sandwich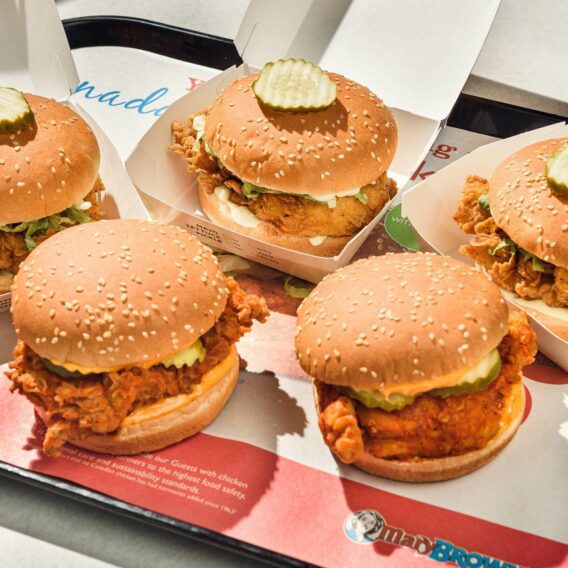 We all love a good, hot chicken sandwich, but do you know the history behind the chicken sandwich? In this article, we will take a look at the origins of the chicken sandwich, and the various chicken sandwiches we serve at Mary Brown's. 
Chicken Sandwich History
The first chicken sandwich is thought to have been created in 1946 by an Atlanta restaurant entrepreneur named Truett Cathy as a substitute for the famous hamburger. His recipe was simple. He grilled a piece of chicken fillet and served it in a bun. He called this new invention of his the Chick-fil-A. 
The chicken sandwich became an instant hit and is now served around the world at various fast-food restaurants. The secret lies in the simplicity of the recipe. The chicken sandwich typically consists of a boneless chicken fillet, toppings of choice, and it's served between two pieces of bread. 
What's more interesting, is the wide variety of new chicken sandwich styles that currently exist at various fast-food restaurants. Since there are no set rules for preparing a chicken sandwich, the chicken used for the sandwich can be either shredded, deep-fried, roasted, or grilled. The sandwich itself can be served either cold or hot. The different styles of cooking the chicken sandwiches leave food enthusiasts with many different options to choose from, making it a go-to option for many when visiting a fast-food restaurant. 
The chicken sandwich is now also served in wraps and open-faced versions. We have clearly come a long way since the first chicken sandwich. Food enthusiasts love trying the chicken sandwich from various restaurants to taste the different nuances in all the different types of chicken sandwich recipes. 
Mary Brown's Chicken Sandwich History 
Mary Brown was a real woman with a fantastic fried chicken recipe. Her husband decided that the rest of the world deserved to taste her recipe. He met with two intelligent Newfoundland businessmen who fell in love with Mary's chicken right away. In Canada, they bought the recipe and began a chicken revolution.
After a brief stint as Golden Skillet, the restaurant was renamed "Mary Brown's" in honour of the recipe's creator. Mary continues to inspire us decades later!
From Mary's famous recipe we created our famous Big Mary Chicken Sandwich. Everything about Mary Brown's screams Canadian pride and so is our chicken sandwich. Our chicken sandwich is hand-made in-store with a high-quality Canadian Grade A chicken breast. This delicacy is cooked to golden perfection and served with premium ingredients. The daily hive has also named our sandwich as Canada's favourite! 
We have now taken the historical chicken recipe and created a wide selection of chicken sandwiches for our customers to enjoy. So let's look at the top chicken sandwiches served at Mary Brown's. 
Top Mary Brown's Chicken Sandwiches
The sandwiches mentioned below are served at every Mary Brown's location. Walk-in today or order online to enjoy any of these delicious Mary Brown's sandwiches. 
1. The Big Mary Original
This delicious Mary Brown's chicken sandwich comes with a whole chicken breast that's always hand-breaded and then fried in our proprietary cookers to golden perfection. The chicken is so good, it will take you back in time, reminding you of Mary's delicious recipe. The chicken is served in a sesame bun with mayo and lettuce. Feeling spicy? We also let our customers customize their orders to include spicy mayo. 
2. Nashville Mary  
We took our famous chicken and mixed it up with a bunch of other goodness. This mouth-watering Mary Browns chicken sandwich comes with a Mary Browns chicken breast that is tossed in a sweet, smokey, spicy hot honey Nashville glaze. We top it up with a savoury ranch dressing, served with pickles on a sesame seed bun. This one's a favourite among hot chicken sandwich lovers 
3. Spicy Big Mary – Hot Chicken Sandwich option 
Love peppers? This one's for you! For this sandwich, we took all the goodness of the original Mary Brown's chicken recipe and seasoned it with a cayenne kick, guaranteed to leave your taste buds elevated. This hot chicken sandwich is served with spicy mayo, topped with pickles, and served in a sesame seed bun. 
4. Buffalo Mary – Hot Chicken Sandwich option 
Nothing goes with fried chicken like some delicious Buffalo sauce. For this Mary Browns chicken sandwich, we took the Mary Browns scrumptious chicken and tossed it in some flavourful and spicy Buffalo sauce. To add to this delicious party we top up the sandwich with blue cheese dressing that compliments the spicy chicken perfectly. The sandwich is served with pickles in a sesame seed bun. 
Why Mary Brown's has the Best Chicken Sandwich Toronto
We pride ourselves to be a hidden gem between all the other fast-food chains and comfort food restaurants. Our testimony is in the love the customers have for our food, that keeps them coming back for more. So what makes Mary Brown's chicken sandwich the best chicken sandwich, Toronto, you may ask?
Firstly, unlike other fast-food restaurants that preserve, ship, and store their ingredients for weeks, we only use fresh and premium ingredients for all our foods, sandwiches included. Mary Brown's is proudly Canadian and we source our ingredients from local farmers and Canadian suppliers. 
Secondly, all our food is handmade, so the chicken fillets for the sandwich are marinated, hand-cut, hand-breaded, and cooked fresh in small batches in each store. The chicken is also cooked in our very own proprietary cookers. Rather than pressure fried, which is the industry standard, our cookers use heat to seal in juiciness and flavour and give our chicken it's delicious natural golden colour. All this gives us the confidence that ours is the best chicken sandwich Toronto has ever tasted. 
All our hard work and diligence keep paying off through the love we receive from our customers. Through this, we have seen Mary Brown's grow to become the largest Canadian quick-serve chicken restaurant franchise. Our plan is to continue to grow so we can fulfil Mary's husband's dream of seeing millions enjoy his wife's delicious chicken recipe. 
Order your favourite chicken sandwiches, deliciously made at Mary Brown, today! Love our brand and are interested in becoming a part of the Mary Brown's family? Consider investing in our franchise.