What is a Quick Service Restaurant?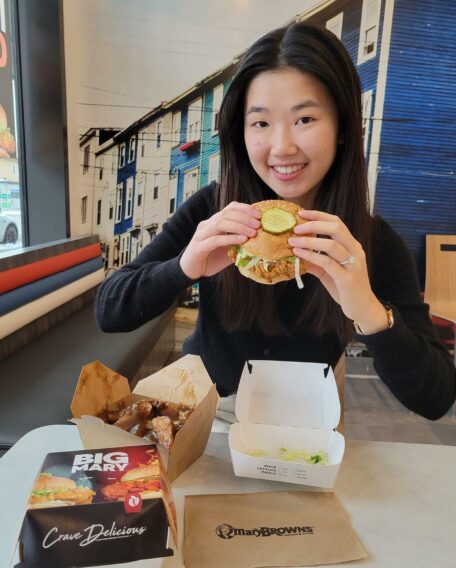 If you walk down a busy street in downtown Toronto, you're likely to encounter a fast food restaurant like Mary Brown's, McDonald's, Tim Hortons, or Wendy's on almost every street corner.
Over the last several years, quick service restaurants have been popping up everywhere. According to a recent report by IBIS World, fast food restaurants in Canada experienced a 4.2% market size growth in 2022, and have been growing at an average rate of 0.1% since 2017. In 2022, it generated a revenue of $28.9 billion, ranking as the 2nd largest industry in Accomodation and Food Services.
With a third of Canadians dreaming of opening their own restaurant, these numbers are not at all surprising. The quick service restaurant industry is booming, and if you're looking to get into the quick service restaurant business, now is the right time. 
But it might help to know a little bit more about the quick service restaurant industry first. Continue reading to learn more about what a quick service restaurant is, the difference between quick service restaurants and fast food restaurants, how to run a successful quick service restaurant, and more.
What is a Quick Service Restaurant?
A quick service restaurant (QSR) is a restaurant model that provides fast, convenient, and inexpensive dining options for people who are in a rush or don't have time to wait for their food. Mary Brown's is an example of a quick service restaurant within the quick service industry.
Quick service restaurants capitalise on functionality, efficiency, and speed of service by offering a limited menu and table services as well as food that has been pre-made in a base kitchen, requiring only last minute preparation before serving. 
The service style for quick service restaurants typically involves a customer ordering at the front counter from a menu that is generally located on a screen or board above the cashier's countertop. Menu options normally consist of fried chicken, pizza, burgers, fries, and other foods that can be prepared in minutes.Quick service restaurants provide food options that are quick to make and cheap, with prices typically falling between $5-12. Food is usually ordered for takeaway, and the food is always packaged so you can easily take it with you wherever you go. 
Fast food restaurants also cash in on the impulse buying of the customer. This is one of the primary reasons why quick service restaurants can be found on almost every street corner in a busy downtown area or in other high traffic areas.
Is There a Difference Between Quick Service Restaurants and Fast Food Restaurants?
You may have noticed that we have referred to quick service restaurants as fast food restaurants several times so far. While quick service restaurants are commonly referred to as fast food restaurants, and the two terms are often used interchangeably, there are some slight differences between the two terms that are important to know.
The term "quick service restaurants" is more than just a term that people use to refer to fast food restaurants. Rather it is a category within the Canadian foodservice industry, which segments restaurants by type and structure. 
When it comes to type, the market is divided into full-service restaurants, quick-service restaurants, self-service restaurants, cafes and bars, and home delivery/takeaway restaurants. Within this classification system, quick service restaurants are further divided into street stalls/kiosks and fast food restaurants. 
The foodservice market can also be segmented according to one of two possible structures: they are either chain restaurants or independent restaurants. Quick service restaurants may either be enfranchised or independently owned and operated as standalone restaurants. 
Quick service restaurant franchises are usually well-known fast food franchises or chains with a national or even global presence. Examples of fast food franchises in Canada include Mary Brown's, McDonald's, Tim Hortons, and so on.
Quick service restaurants are a category within the food service industry, which is further subdivided into the subcategories fast food restaurants and street stalls/kiosks. So while it is accurate to say that fast food restaurants are quick service restaurants, it is not accurate to say all quick service restaurants are fast food restaurants.
Who do Quick Service Restaurants Cater To?
Quick service restaurants provide a service that is aligned with the North American lifestyle. Because they offer fast, convenient, and inexpensive food options for people who are in a rush and don't have a lot of time to wait for their food to be made, quick service restaurants work great for people who are on a tight schedule and/or budget (or people who have midnight cravings!).
Because quick service restaurants combine speed, convenience, and affordability, they cater to a broad audience. The fast-paced lifestyles and time-pressed schedules of the working population leaves them with little time to prepare home cooked meals, leading to an increase in the frequency of dining out and the consumption of ready-to-eat fast foods by the working population.
Likewise, many university and college students do not have the time to sit and eat meals, let alone make them. As a result, many resort to takeout services or quick service restaurant options. Due to this, more and more quick service restaurants are opening food outlets near university and college campuses. 
Alongside these factors, evolving lifestyles combined with less time spent on cooking have led to the rising trend of dining out, creating a "dining out" culture that has prompted consumers to seek fast, inexpensive ready-to-eat foods from quick service restaurants. 
Together, these cultural and lifestyle changes have led to the steady growth we've witnessed in the quick service restaurant industry over the past several years.
Why Choose a Quick Service Restaurant Model?
Quick service restaurants are able to cater to a wide range of customers' needs because of their combination of affordable prices, convenience, and quick service. As a result, these types of establishments have a larger customer base. These factors have also contributed towards making quick service restaurants into a booming industry
Owning a quick service restaurant is also more cost effective than owning other restaurant types because it allows you to cut down on several costs typically associated with running a restaurant. Areas where costs can be reduced include:
Limited menu options which reduces the number of ingredients required to operate a quick service restaurant

Advanced food preparation in a base kitchen means you don't have to spend as much on labour

Basic kitchen equipment such as deep fryers, microwaves, flat-top grills, etc., means saving money on costly equipment
If you buy into a quick service restaurant franchise, such as Mary Brown's, you receive the added benefit of having additional support to run your business because you have access to a team of professionals who guide you through the process. With Mary Brown's fast food franchise, you will also have access to a reputable and established brand so you won't have to worry about building brand recognition from scratch and making costly mistakes. 
Common Strategies to Run A Successful Quick Service Restaurant:
It takes a lot of time, hard work, and effort to start a quick service restaurant. But it takes a lot more to make it successful. A thriving quick service restaurant is a well-greased machine–it must operate efficiently, consistently, and repetitively. To accomplish this, systems and procedures must be set in place to keep all of the different pieces running smoothly.
Below we've outlined 10 areas to focus on to make your quick service restaurant stand out and succeed.
1. Know Your Target Audience
Above all, to be successful in the quick service restaurant industry, you must have an in-depth knowledge and understanding of your target audience's demographics and psychographics, including their age range, average household income, education level, marital status, ethnicity, hobbies, interests, etc. This will inform and influence all of your quick service restaurant strategies. Before you can do anything, you need to know your target audience inside-out.
2. Location is Key:
To choose the best location for your fast food restaurant, you must know your target audience and research your potential customer base in each place you are considering opening a restaurant before choosing the location that best matches your target audience's profile.
Location plays a vital role in the success of your restaurant. Areas that are easily accessible and highly visible will draw in more customers with minimal effort on your part.
The quick service restaurant industry is all about convenience, so the location of your fast food restaurant should be visible, easily accessible, and located in or near high-traffic areas such as shopping malls, busy commercial strips, or busy streets. In this way, quick service restaurants attract business. Locating your business in high-traffic areas guarantees a steady stream of foot or car traffic passing by your restaurant and increases the chances of impulse purchases. 
3. Have a Clearly Defined Management System:
Every successful restaurant will have a clearly defined management system. Each system will look slightly different, but there must be some form of management. 
Most management systems feature a general manager who is responsible for overseeing the operation of the restaurant and has one or a series of Assistant Managers to help facilitate the smooth operation of the business. There are, of course, other models, but this is by far one of the most common management structures used by quick service restaurants.
Depending on the management structure of your restaurant, your management team may have the following staff on hand:
General Manager: responsible for the overall operation of the restaurant. All business decisions go through them.

Assistant Manager: working under the direction of the general manager, there may be one or a series of assistant managers, including:

Kitchen Manager: supervises all aspects of the kitchen, including hiring kitchen staff, food preparation, and food inventory.

Floor Manager: responsible for the front of house service staff and ensuring customers are satisfied.
4. Maintain Consistency and Quality With Set Processes
Maintaining consistency in food quality and service in your quick service restaurant is crucial to establishing brand loyalty among customers. One way to ensure the consistency and quality of the food and service in your restaurant is to set processes for your staff to follow.
Some common processes quick service restaurants set up and rely on to ensure consistency in food quality or service include
Centralised procurement

: purchasing supplies and ingredients from a single trustworthy food supplier 

Proper receiving of supplies

: conducting quality checks to ensure that the supplies and pre-cooked ingredients received are of good quality 

Organised storage system

: managing your physical inventory so that every item has its own place and that new items are placed in the back while existing items are in front to ensure that the items which will expire soonest will be used first

Stocking and inventory management

: keeping track of stocking and inventory 

Conduct regular control checks/audits:

quality control checks and audits should be done regularly to ensure that good quality products and ingredients are being used when preparing food.

Cleaning schedules and sanitation policies:

having a clear sanitation policy and schedule in place ensures your establishment is clean and safe. 
One strategy many quick service restaurant franchises rely on to maintain consistency in food quality across their restaurants is setting up a base kitchen in which food items are semi-prepared and then distributed to each restaurant outlet where final preparations are done. By reducing the amount of food preparation done in restaurant kitchens and using standard recipes with pre-determined ingredients and preparation methods, fast food franchises can ensure similar food quality across all outlets.
5. Hiring Well and Reducing Staff Turnover:
The fast food industry sees some of the highest employee turnover rates of any industry. Unless you are hiring for a managerial position, recruiting quality employees for entry level positions at affordable rates and retaining them is one of the biggest challenges to running a successful restaurant.
When hiring for entry level positions, create thorough job descriptions that outline all the daily duties the applicant will be expected to perform as well as any special circumstances that may arise on the job. Post your ad to the job boards you think your ideal employee is likely to visit to ensure you get the best pool of candidates.
6. Properly Train Your Staff:
In much the same way that hiring proper staff can help reduce the likelihood of staff turnover, so too can adequate employee training. It's important to train new employees properly and provide ongoing training opportunities to help your employees perform at their best. Employees will perform better when they know how to do their jobs and know exactly what's expected of them. 
Well-trained employees are also more efficient and require less supervision. A competent staff will reduce the amount of time it takes to perform tasks, reducing labour costs. Be sure to clearly allocate duties and provide detailed instructions for each activity so employees know exactly what they need to do and how to do it.
It's also important to remember that your employees and the service they provide represent your restaurant. If they are discourteous or fail to follow basic hygiene parameters, it will leave a negative impression in the minds of your customers and reflect poorly on your business. You must train your employees to make guests feel welcome through smiles, polite behaviour, and neat dressing, because hospitality and customer engagement go a long way in establishing a loyal customer base. 
7. Reducing Staff Turnover:
As with any business, it is important to keep your employees motivated and satisfied. In addition to properly training your employees you should make an effort to retain them. 
There are several strategies you can use to reduce turnover and acquire reliable employees, such as:
Being as flexible as possible with scheduling to accommodate your employees' as best as you can

Providing opportunities for growth and development

Setting up team-building activities to improve employee rapport
Offering good working conditions, cash incentives, a competitive salary, salary increases, bonuses, ample holidays, performance incentives, career progression opportunities, or a title like employee of the month are all ways to keep employees motivated and happy, increasing the likelihood that they will continue to work for you. It will also improve staff productivity which, in turn, will help you run a successful business.
8. Track Reports and Analyze Data:
To run a successful business and operate at your highest potential, you must use reporting and analytics to develop an in-depth understanding of your business and its performance, as well as to identify areas of improvement. To do this, you will need to regularly track:
Sales Reports

: track cost of operation and sales reports to discover total sales generated on a daily, weekly, monthly basis; hourly sales numbers; best time and day of week where most sales are generated; top and bottom selling menu items;  costs of running business smoothly; and payment type distribution

Inventory Reports:

product inventories or ingredient inventory logs provide a real-time view of your inventory which will help you identify the most profitable menu items, identify areas where you can reduce waste, and examine cost vs. profits incurred on your food items.

Labour Reports

: hourly labour fact reports and employee profit reports help keep track of employee productivity, cost of labour against sales revenue, and optimise staff performance to align with business trends to reduce overspend.
Apart from these you should also be analysing customer retention rate and feedback reports. Be sure to listen to your customers' feedback, whether it is in person or online. Regularly monitor your reviews to gather actionable feedback, both positive and negative, and take appropriate action.
9. Invest In and Implement Technology:
Many restaurants are now investing in high-end technology to help them run their businesses more efficiently. At the core of almost every successful quick service restaurant is a cloud POS system. POS softwares provide innumerable benefits, enabling business owners to make data-driven decisions to ensure the smooth operation of their business. 
A POS system allows you to automatically prioritise orders, optimise operations, and enhance the speed of service. In terms of front of house operations, a POS platform, along with other tools like contactless payment options and other new technologies like self-service kiosks enable you to deliver a much faster and more convenient service to customers than ever before. 
A POS system can also help manage day-to-day operations like inventory, invoicing, staff scheduling, payroll and cash flow. With a POS system you can more effectively manage your inventory by electronically tracking quantities available and setting automatic reorder triggers so that you never run out of the food items you need to conduct your business. A POS system can even help you forecast how much of each item on your inventory you will need for the week.
Other important technological advancements in the restaurant industry include contactless dine-in and delivery options, online ordering, free wifi, third party integrations, etc. Implementing such technologies go a long way to improving customer experience and increasing brand loyalty.
10. Online and Offline Marketing:
The quick service industry is highly competitive. To develop a competitive edge, you may need to invest in both online and offline marketing strategies. 
Social media marketing is by far one of the most powerful marketing tools available to business owners. Create a website and social media pages and regularly update them by posting photos or videos of customers enjoying themselves at your establishment, signature dishes, special events, or valued employees.
You might also consider more traditional offline marketing strategies such as printing advertisements in newspapers, distributing flyers, email campaigns, discounts, limited time offers, participating in food festivals, or catering for various events in the area.
Opening your own quick service restaurant can be challenging, and running your own business can be even more daunting. However, if you franchise with a fast food franchise like Mary Brown's it can make your experience not only more manageable but also much more enjoyable. 
With a 50+ year history of building successful quick service restaurant franchises, Mary Brown's is there to support you every step of the way. When you become part of Mary Brown's family, our time-tested franchising system is there to ensure your success at every turn. 
Franchise with Mary Brown's to become part of the largest quick service Canadian chicken restaurant chains.