How to Open a Canadian Franchise Branch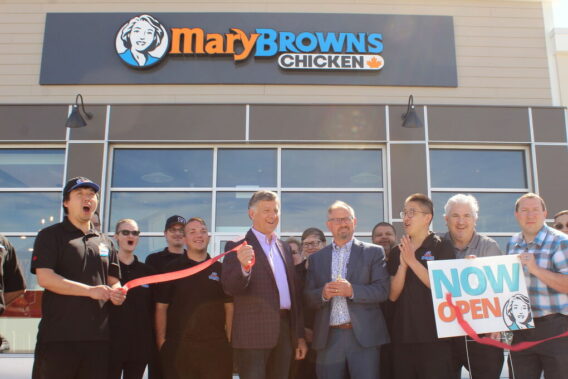 Are you planning on purchasing a franchise in Canada? The journey towards opening your very own Canadian restaurant franchise can be tricky and confusing. To make things easy for you, we at Mary Brown's put together a detailed guide of steps you can follow to start your own franchise business.
At Mary Brown's, we pride ourselves on knowing how to franchise a business in Canada. With over 50 years in the industry, we took a local restaurant chain and converted it into a nationwide franchise with over 200 locations. Using our years of experience, we put together this list to help you start your franchise branch. 
10 Steps to Opening a Restaurant Franchise Branch
Opening a restaurant franchise can be much easier if you follow a well-guided roadmap from the beginning.  
1. Talk with a franchise representative
After you have completed your independent research on available franchises, you have to start calling the representatives of the shortlisted restaurant companies. On this call, you can discuss your business goals, look at location and restaurant model options, and discuss your budget to start the business. 
Talking to the representative will help you understand which franchise opportunity is the best fit for you. This call will also help you determine the next steps you need to take. Make sure you get all your questions answered on this call before you spend more time communicating with the company. 
2. Attend a discovery day
Discovery day is an event where the franchise company and the buyers meet and decide if the two make a good fit for each other. These events happen in person; however, due to Covid restrictions, the event could take place virtually too. 
Discovery day is a crucial step in the buying process. It helps buyers get a good feel of the company values by interacting with some top-level executives. It is also a good time for the franchise company to select candidates that are a good fit and will help the brand grow. 
For restaurant franchisees, now is a good time to discuss restaurant models that the franchising company offers. The restaurant model is an important consideration since you need to pick a model that fits your business preference. 
3. Make sure it's a good fit for you
 After chatting with the representative and attending the discovery day, you should have all the information you need to decide if you want to move forward with the business. While evaluating your research, make sure you're comfortable with the company's business model, fee structure, and management team. 
You may also need to judge if you are a good fit for the company based on their requirements. This could include your skill and experience in the business and the level of work and responsibility you are ready to take on as the owner. 
At the same time, ensure a cultural fit too. A franchise can be like a family, and you need to check if your preferences in a working environment fit into the organization's culture. 
4. Secure the needed funds 
To start a restaurant franchise, you first need to secure liquid cash to fund the business. Before applying for a business loan, there are a few things that you will need to take into consideration. The first issue is finding the right loan to match your needs. After that, you will need to create a strong application using the required documents, such as financial statements, credit checks, character references, and more. 
At Mary Brown's, we also offer financial support to assist you with financing, loan inquiries, and the preparation of a business plan. Our team of professionals also strives to maintain transparency in all of our financial dealings. 
5. Sign the papers and make it official 
After you and the company reach an agreement and feel comfortable making it official, you move on to signing the contracts. This is one of the most critical steps in the list since it involves several legalities. 
It is advised to hire a lawyer for this process who can read and explain everything that's involved in the contract. Obtaining a professional opinion will ensure that you are comfortable signing off on everything, relegating any future surprises. 
6. Take the franchise's training
Once you sign the contract with a franchise, you're officially on board. The onboarding process at most of the franchises includes training. Such training is a crucial step as it sets up the groundwork for your business to begin operations. 
Mary Brown's offers a comprehensive training program that'll help you and your team deliver consistently, according to the Mary Brown's high standards. You and your team will be trained across various departments, such as:
Food preparation

Office procedures 

Basic management 

Hiring

Guest Focused and Service-Centric Approach
7. Work with the dedicated real estate department to find the perfect location
In business, there's no arguing over the fact that location is everything. The location of your restaurant can make or break your business. Therefore, it is advised to work with a professional real estate agent to scout and select the location for your franchise branch. 
Mary Browns also offers every franchisee real estate support. Our specialists help find the best locations for your branch according to demographics, traffic patterns, visibility, and much more.
You may also pick your location based on the restaurant model you previously selected. For example, if you chose to open a mall store, you may have to look at mall locations that attract bigger crowds. 
8. Obtain permits and insurance
Before starting a franchise, you need to procure all the required permits for the city. You may have to secure permits based on where your Canadian franchise is located. You also need to get insurance coverage for your restaurant before you can kick off operations. 
Many franchises help their partners secure these permits and insurances. Such paperwork is something you should discuss with the franchise while signing the contract.
You could also hire a lawyer and speak with the local authorities to ensure compliance. As a franchisee, you are responsible for ensuring that your business complies with all the laws and regulations.  
9. Hire dependable staff
Hiring a strong team of staff can help ensure the smooth operations of your restaurant franchise. There are a couple of steps you need to keep in mind while hiring staff. The steps can involve the following:
Evaluating the positions that need to be filled

Figuring out a recruiting strategy

Writing the job description

Posting the job on recruitment sites 

Sift and shortlist candidates 

Interviewing the shortlisted candidates

Following up with the interviewee

Extending your job offer 

Conducting a background check
10. Begin operations 
The last and final step is to begin operations. There are certain marketing strategies that you can execute during the initial days of operation to attract the crowd to your restaurant. Ask your franchise representative if they offer marketing support too. 
Franchisors will often have defined processes for signage, ads, and other marketing initiatives implemented in the business. Estimates for these initiatives will usually be a part of the start-up costs quoted in the FDD.
Has the above information gotten you interested in joining the Mary Brown's franchise team? Reach out to inquire about the latest franchise opportunities now!