8 Steps to Cooking Crispy Fried Chicken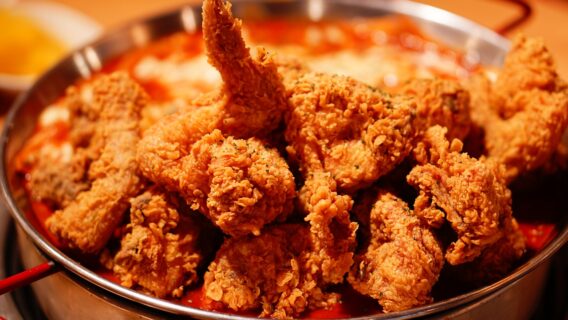 How do you get that perfect crispy, golden brown chicken layer? The outer coating truly makes or breaks how well your fried chicken turns out. Fried chicken should have a crispy texture exterior with deep crackly grooves and a juicy, meaty interior. 
This simple recipe is an easy way to make fried chicken that will come out perfect every time. It's also great for its versatility since you can eat it as is, or add any type of sauce for your dunking pleasures.   
Ingredients List 
Here is a list of ingredients you will need for this recipe. Also, feel free to add your own additional spices if you want some extra flavour. 
Onion powder

Garlic powder

Salt 

Pepper 

Lemon zest 

Canola Oil 

Vodka  

Flour 

Baking powder 

Egg whites 

Buttermilk 

Chicken drumsticks and or thighs 
Recommended Kitchen Equipment
Dutch Oven 
A dutch oven is the perfect pot to fry your chicken in for many reasons. It retains heat well and remains evenly hot; unlike some other pots where the temperature fluctuates, therefore causing your chicken to cook uniformly. Another benefit to the dutch oven is how deep it is, the increased depth will stop your chicken from sitting on the bottom of the pot and burning. The depth will also prevent oil from splashing everywhere.
Deep fry thermometer 
It's important to know what temperature your oil is at when frying the chicken to ensure it's being cooked thoroughly. The deep fry thermometer is the perfect tool for this because it will sit right inside your oil and give you a precise measurement. 
Chicken thermometer 
The chicken thermometer is used after you're done frying the chicken and want to check it's internal temperature to make sure it was cooked all the way through. Just make sure when you place the needle inside the chicken you don't touch the both, as this could give you an inaccurate measurement. 
Wiring cooling rack 
When you take your chicken out of the pot there will be left over oil that you might want to remove. Most people make the mistake of putting their chicken on a paper towel to dry up the excess oil. However, this will make your chicken less crunchy and will ruin all the hard work you put in! Instead, use a wiring cooling rack to let the oil drip off, while your chicken remains nice and crispy.
Small strainer
A small strainer will be used to clean up the oil from any pieces of batter that fall off the chicken. If you let too many pieces of batter sit in the oil they can start to burn. 
The Perfect Crispy Fried Chicken Recipe in 8 Steps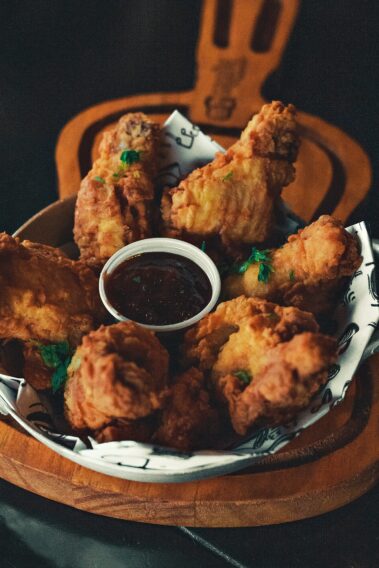 This crispy fried chicken recipe is intended for making around 2 pounds of chicken thighs and drumsticks. If you have more or less chicken, then you can adjust the measurements accordingly. 
1. Pat the chicken dry 
Remove your chicken drumsticks and thighs from their packaging, then place them on a baking sheet and pat them dry with a paper towel. 
2. Make the Dry Brine
To make your dry brine combine your onion powder, garlic powder, lemon zest, salt and pepper to a mixing bowl and stir. The amount of seasoning you use here is up to your specific flavour preferences. 
Once you're done mixing, spread the brine evenly all over the chicken.
The purpose of using dry brine is to soak up excess water, and will ensure you get the crispiest, juiciest, most tender chicken.  
3. Marinate 
Put your chicken in the fridge (leaving it uncovered – so no lids) and leave it to marinate in the brine. If you're in a time crunch it's okay to take it out of the fridge after 4 hours, but for the best result leave it in the fridge overnight. 
A little tip, you want your chicken to be at room temperature before frying. So make sure to remove it from the fridge 30 min before you start cooking. This will ensure your chicken cooks evenly and has a superior texture. 
4. Making the coating – dry ingredients
For the dry ingredients combine in one bowl: 
3 cups of flour 

2.5 teaspoons baking powder 

1 teaspoon onion powder ( or to taste)

1 teaspoon garlic powder (or to taste) 

1 teaspoon salt (or to taste)
5. Making the coating – wet ingredients
Now whisk together all your wet ingredients in one bowl (make sure they stay separate from your dry ingredients) : 
1 cup buttermilk 

1 ounce vodka 

5 eggs whites 
Pro tip, the egg whites will make your coating lighter and crisper, compared to using the entire egg. This is because the yolk's fat content makes your breading softer, therefore taking away from that crispy layer we're craving. Egg whites also help the flour stick to the chicken better. 
The vodka will evaporate quickly in the frying oil, which will set the coating and create flakey layers. 
6. Triple dipping 
First dip your chicken into the bowl with your dry ingredients, then dip it into the bowl with the wet ingredients, and finally dip it one more time into the bowl with the dry ingredients. 
Between each dip, lightly shake off any excess buttermilk and flour to ensure your coating does not get too thick. 
7. Frying 
It's time to get frying. Pour the canola oil into your pot and wait till it gets to a temperature of 350 degree fahrenheit. Once your oil reaches the right temperature, put your chicken in the pot and cook it for 7-10 min. Ultimately you want the internal temperature of your chicken to reach 165 degrees fahrenheit. 
Make sure to not over crowd your pan. If you put too many pieces of chicken in your pot at once, they will start hitting up against each other and this will ruin your coating. 
Also, remember to flip your chicken only once while frying. If you start flipping it more frequently you could end up breaking a bunch of the coating off of your chicken. A best practice is to wait at least three minutes before flipping to give the coating a chance to set it. 
Once you're done frying your first set of chicken pieces, take them out of the pot and use a small strainer to pick up any leftover pieces of batter that fell off your chicken. This should be done before you put more pieces of chicken in the pot of oil. If you let too many pieces of batter sit at the bottom of your oil they will start to burn and alter the taste of your chicken. 
8. Cool off
Your last step is to take your chicken out of the oil once it reaches your desired internal temperature. You will see excess oil on your chicken, but do not rub it off with a paper towel. As we mentioned previously, this will leave your chicken coating softer and less crispy. Instead, let your chicken cool off on a wiring cooling rack to let the oil drip off while still preserving all the crunchiness and crispiness you tried so hard to get. 
On those days where you just want to relax and not worry about cooking dinner, let the pros take care of you. With a plentiful selection of chicken sandwiches, fried chicken, sides and more, see Mary Brown's to get a taste of quality.